karma krew
established 2018
Karma Krew is a Houston based K-pop Dance Cover group, founded in 2018. Beginning with just 6 members, Karma Krew has since expanded to over 20 active members, all united by a love of K-Pop and dancing. From the beginning, Karma Krew strived to be inclusive and diverse - open to members of any dance background. Recently, they have shared this message to the Houston K-pop community through affordable K-pop dance classes.Over the past four years, Karma Krew has hosted dozens of free, accessible K-pop events by teaming up with local small businesses. In addition to games, raffles, and random dance challenges, Karma Krew performs a variety of K-pop dances at their own events. The group also performs at other Houston events, such as Snap2Official's K-pop Skate Nights, and more notably, the Houston Rodeo 2022.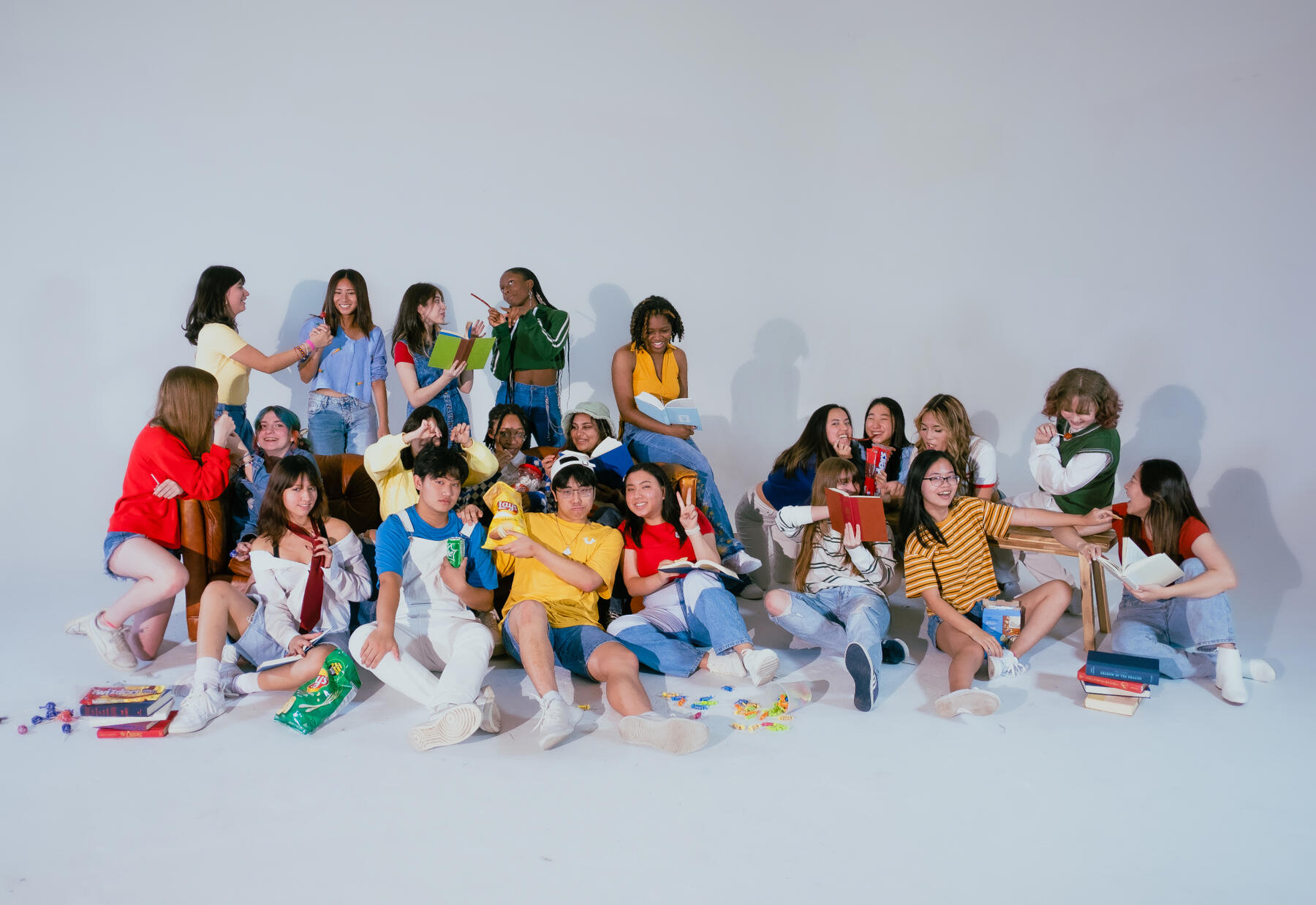 More recently, the group has begun competing in global dance competitions, making it as far as the finals for the Houston Chapter of the Korean World Festival. They have even had the opportunity of opening for K-Pop solo artist AleXa, traveling to Dallas to perform prior to her exclusive Q&A session. In the future, Karma Krew hopes to continue hosting free events to the general public and expand their performances to even bigger and brighter stages.
our events
Every Saturday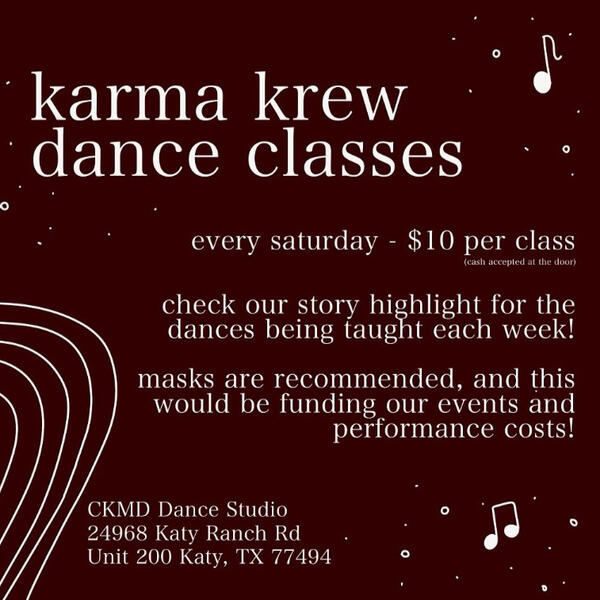 Karma Krew Dance Class
Held weekly on Saturdays at CKMD Dance Studio for $10/class
Song(s) of the week & other info (such as difficulty) can be found in our Instagram highlight.
Saturday, October 8th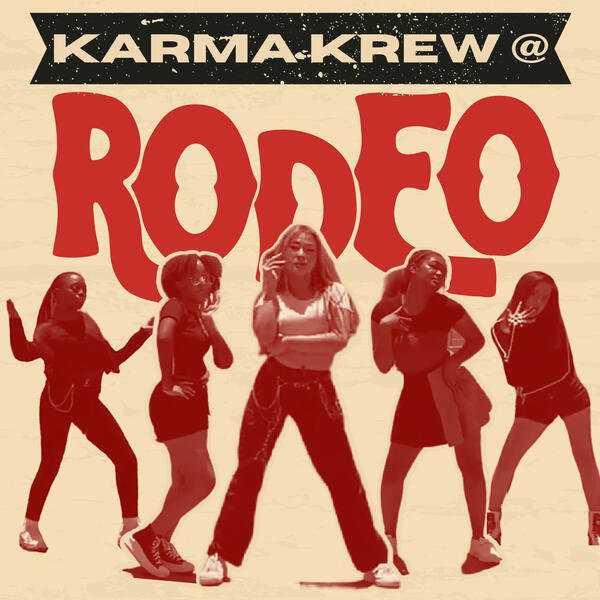 MANIFESTO:DAY 1 Random Dance
We are hosting an event to celebrate ENHYPEN's first world tour with a performance by Karma Krew alongside a random dance challenge.
help us improve
We understand how expensive K-pop events and merchandise can be, which is why Karma Krew strives to keep events entirely free. To maintain the quality of our events, we would appreciate donations if you have the resources to do so.
spacer
Click here to give suggestions, feedback, or questions about anything!
online random danc
Next random dance challenge will be held soon.There will be two RDCs:2:00 PM CST - 50 Popular songs 2018-2022
2:30 PM CST - 2021's Top 50Zoom link will be posted in our bio at 1:50 PM CST.
Follow us on Instagram (https://www.instagram.com/karmakrew.official/) to get all the updates!
spacer
summer k-pop showcase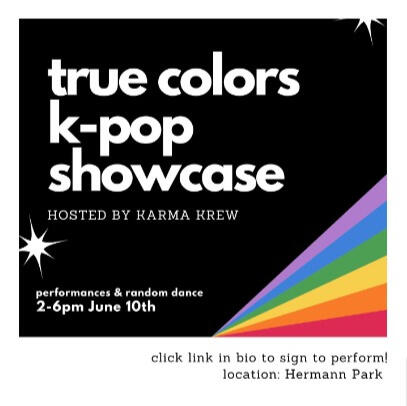 Check out and sign up to perfom at our Summer K-pop Showcase on Saturday, June 11th from 5 to 8 pm!
spacer
Activities:
★ Performances
★ Random Dances
★ Possible raffleThank you so much to Mercy Cosmetics for sponsoring us!
k-pop tea time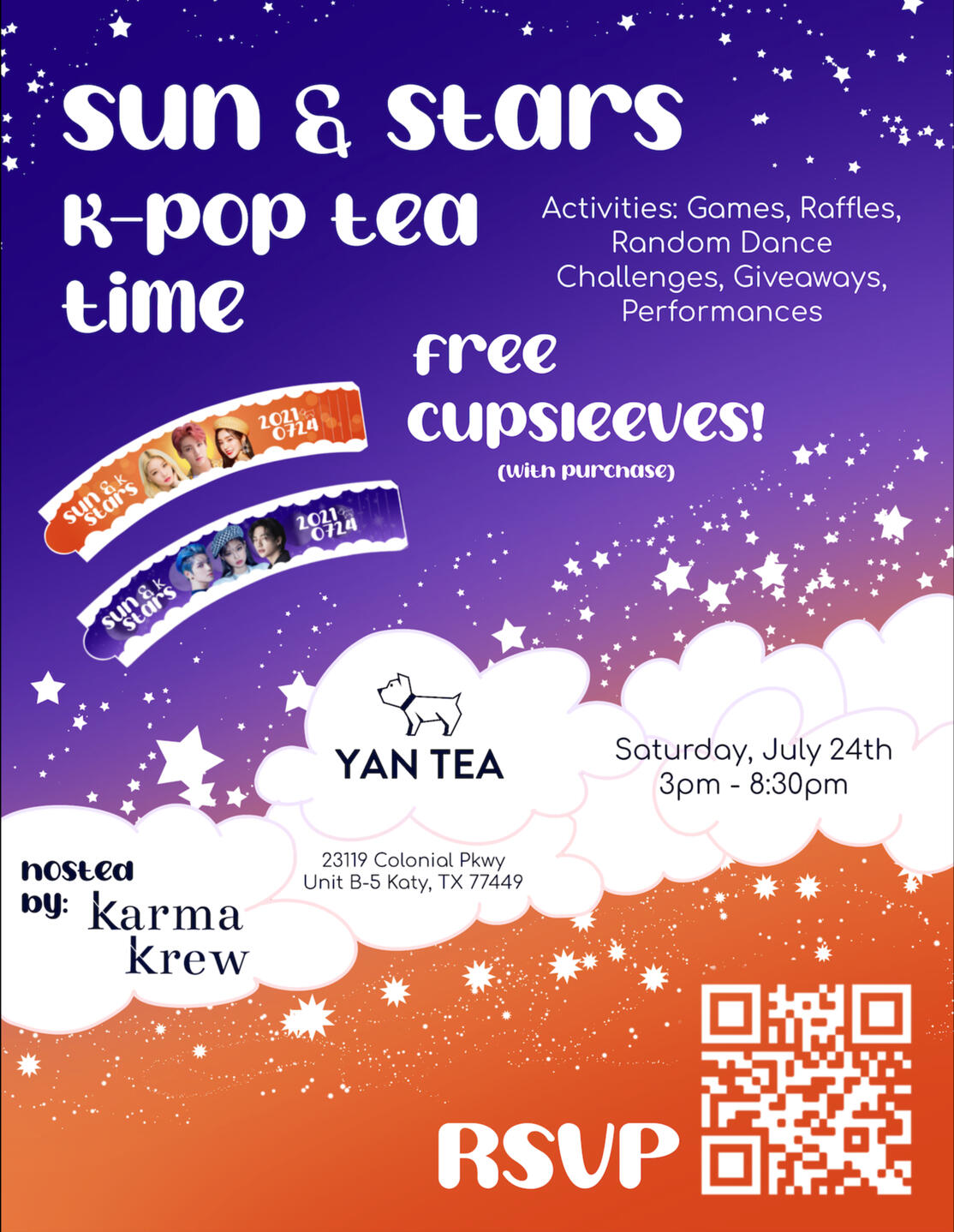 Raffles will occur for both the raffles baskets as well as all 7 BT21 lunchbox cakes. which have been baked by our member Vivi (@vivimluu).
Raffle tickets will be sold for these prices:
★ 1 for $1
★ 6 for $5
★ 14 for $10
Our Sun & Stars K-pop Tea will be from 3:00PM - 8:30PM on July 24th at Yan Tea! Be sure to wear a mask and arrive early for extra giveaways.
spacer
Activities:
★ Free cupsleeve per purchase
★ Random Dance (outdoors)
★ Performances (outdoors)
★ Poster Giveaways
★ Raffle Baskets (indoors)
★ Kahoot + Games (indoors)Click here to learn about our COVID-19 protocol and procedures. Click here to RSVP - if you do, you'll get an extra freebie!Keep up to date by following our Instagram.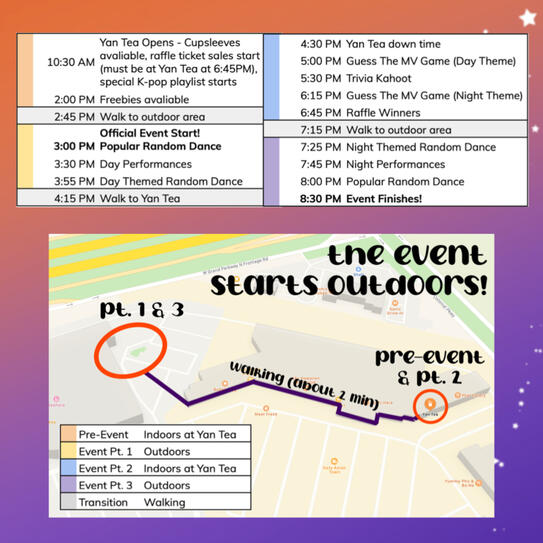 performer auditions
The theme for the Suns & Stars K-pop Tea Time is Day vs Night. Half of the performances will have a "day" theme, and half will have a "night" theme. We will require a one (1) minute long, one-take video of the song you/your group plan on performing at the event in the planned outfits (to avoid wardrobe malfunctions).spacer
Performances will be outdoors on concrete, so please plan outfits and choreography accordingly. Performances may be up to 4 minutes in length (if a remix/medley) or 1 full song.
spacerDM Karma Krew to reserve a song. Auditions will be due July 9th at noon. Click here to submit your audition video.
donations
We aim to keep all of our events entirely free. None of our members receive pay or financial compensation for their work, whether it be graphic design, creating random dances, or anything else. Additionally, hosting K-pop events does take financial resources, and we greatly appreciate your help in maintaining and improving the quality of our events.
spacer
Your donations will go towards:
❥ cup sleeves, raffle baskets, decorations, etc. for K-pop Tea Time events❥ studio rentals for classes, transport for events, better quality speakers, etc.
_________________________
All donations are non-refundable. You may cash in donations at any of our events in exchange for one raffle ticket per dollar donated (up to 20 tickets per raffle).Please make the message of your donations Karma Krew donation, and if you would like a direct message to know what we used your donation for, please also include your name and a way to contact you (Instagram handle, Twitter handle, or email).
spacer
our COVID-19 procedures
spacer
We, Karma Krew, do not wish to downplay the severity of the COVID-19 pandemic. In Houston, there are still hundreds of new cases each day, and new strains of COVID-19, which the vaccine may or may not protect us against, are continually being discovered. Hospitals are severely overwhelmed which impacts all of us. We highly encourage everyone, regardless of vaccination status, to stay vigilant in preventing the spread of COVID-19 by staying masked at all times, especially indoors.
spacer
Given the global state of the pandemic, we will try our best to hold online random dance challenges. Please note that we are all full time students and thus find it hard to find time to make and host these events during the school year.
spacer
Based on current COVID-19 cases and Harris County vaccination percentages, we recommend that all attendees of our events wear masks and take the appropriate safety precautions required to protect their own health and the health of others.
our COVID-19 procedures
spacer
We, Karma Krew, do not wish to downplay the severity of the COVID-19 pandemic. In Houston, there are still hundreds of new cases each day, and new strains of COVID-19, which the vaccine may or may not protect us against, are continually being discovered. We highly encourage everyone, regardless of vaccination status, to stay vigilant in preventing the spread of COVID-19 by staying masked at all times, especially indoors. One of our members contracted COVID-19 in May of 2020 (and has been healthy and testing negative for several months), and another member's parent works in the COVID-19 sector of a hospital, so we know first hand the impacts of this virus.
spacer
For those who wish to remain remote, we will continue to hold online random dance challenges to the best of our ability.
spacer
Based on current CDC guidelines and Harris County vaccination percentages, we have decided to begin hosting in person events again with the following restrictions which will be heavily monitored and enforced:
all persons must wear masks indoors, regardless of vaccination status*

group performers who are not fully vaccinated and all audience members must be masked, even outdoors

all dancing will take place outdoors, and when distancing is not possible, all dancers will be required to wear masks

participants in random dances will be spread at least 3 feet apart
spacer
Vaccines are available to all persons age 12 and older. At our events:
dance groups/soloists who are fully vaccinated will have precedence over other groups/soloists to perform

fully vaccinated persons' song requests will be weighted thrice that of partially vaccinated or unvaccinated persons**
spacer
*unless eating or drinking, which is heavily encouraged to take place outdoors